Why does eBay ask business sellers to distinguish themselves as businesses?
Every business seller has a legal obligation to be clear to their buyers in their eBay listings that they are operating as a business.
Registering as a business means information such as your business address and returns policy can be displayed in all of your listings (see below) and allows buyers who prefer the increased legal protection they enjoy when buying from a business to quickly and easily distinguish between private and business sellers.
What if I don't register as a business, even though I'm trading?
The Unfair Commercial Practices Directive makes it an offence to falsely represent yourself as a consumer. If you don't declare yourself as a business on eBay when you are in fact trading, you'll be breaking the law. So the business registration process helps you comply with the law by making it clear to consumers on every listing that you are in fact a business.
Do business sellers pay different fees?
Private and business sellers have different fee structures to suit their different needs. Private sellers may list certain auction-style listings in eligible categories for free. Business sellers have access to lower insertion fees for fixed priced items through Shops subscriptions. In addition, business sellers who qualify for Top-rated seller status may also qualify for a discount on final value fees.
How do I decide whether I'm operating as a business?
For most business sellers it should be obvious – if you're operating as a business in the real world, and your eBay selling activities are connected with this business, then you should register as an eBay business.
But if you're not sure…
Choose a business account if you:
sell items that you have bought to resell
make items yourself and sell them, intending to make a profit
are a Trading Assistant
buy items for your business on eBay
Choose a private account if you:
sell items that belong to you and that you don't need anymore
buy things for your personal use
If you're in any doubt, please contact your legal advisor to find out whether you're operating as a business. Remember, it's your own responsibility to make sure that all your business activities, both on and off eBay, comply with the law.
What if I use the same account for business and private selling?
We recommend that you use one account for business selling (registered as a business account) and one account for private selling (registered as a private account). This has the added benefit of making it easy for you to report your business activities and expenses to the tax authorities, should you find you need to do this. See more information on Tax.
What are the legal obligations of business sellers?
You can read up on your obligations in the eBay Business Centre:
What are the advantages of registering as a business?
Aside from ensuring you comply with the law, business registration also means you can:
provide eBay with your VAT identification number and qualify for VAT-exempt seller fees
register with a company name. Your company name and brand can be displayed in all communications with your buyers, such as invoices, helping to increase brand awareness
receive regular business newsletters and communications from eBay
participate in the PowerSeller programme
be eligible to qualify for a discount on eBay fees, provided you meet the relevant criteria
How does business registration affect my listings?
Business sellers display "Registered as a Business Seller" in the section containing their eBay Member Profile.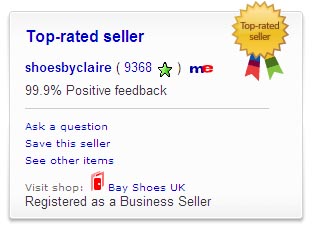 The law requires business sellers to display the geographic address at which their business is established. UK business sellers will automatically have their address details displayed on their listings. Overseas business sellers need to ensure that their address is clearly displayed in one of the following permitted locations:
On the View Item page in the Business Seller information section
On the About Me page
On a custom Shops page that is no more than one click away from the main Shop
This enables you to comply with the law, which requires you to provide contact details on your listing when selling as a business to a consumer.