Over the next few months, eBay will be testing several new features on the site to gain customer feedback and to optimise its functionality. The tests will affect a small percentage of users. Some will develop into new tools, whilst others may not come to fruition. Sellers may participate in these tests either by invitation or by opting in to beta versions
---
Testing improved functionality in bulk listing, relisting and sell similar flows
eBay is redesigning the bulk editing and relisting tool to make it easier for sellers to manage their listings. Once opted in, sellers will be able to use and test its improved functionality.
Key improvements include:
Advanced search in Selling Manager and Selling Manager Pro.
New functionality in My eBay bulk edit, relist and sell similar flows.
Learn more about the improved functionality in bulk listing
---
Testing of new options for leaving Feedback
Over the coming months, eBay will be continuing its testing of new options for leaving Feedback and how Feedback is presented on the View item and Feedback profile pages. These new options are aimed at simplifying the Feedback process whilst obtaining more accurate and objective responses from buyers.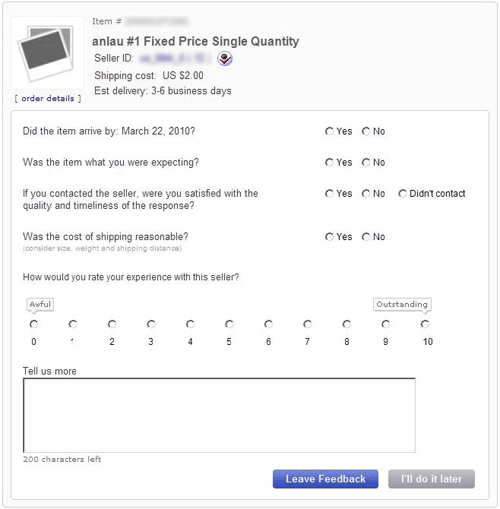 This is one of 5 variations being tested.
As eBay studies the merits of the new system, the data gathered during this process may be used in the future for a wider implementation of a possible revised Feedback system. Sellers will be advised of any amendments well in advance to ensure that all members have enough time to understand the changes.