Between early June and mid-July, you'll be prompted to opt in to manage your own custom settings for postage, returns and payment information from one central location, rather than specifying the information separately on each of your listings.
These custom settings are called 'business policies' and they'll save you time when creating and updating listings. Business policies can be assigned to multiple listings so, for example, if you choose to change your postage details for certain listings, you can simply update the relevant postage policy and all listings using that policy will automatically update.
Detail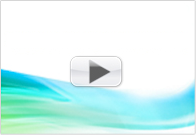 Benefits of business policies
Save time when creating listings - define policies and reuse them multiple times.
Manage listings more efficiently - update your postage, returns and payment information in one central location without having to update the information for each listing.
Make a single change and easily update multiple listings.
Reduce the possibility of mistakes as you won't need to retype information for multiple listings.
Flexibility to create different variations of business policies.
Review and edit your business policies in one central location.
Getting started with business policies
When prompted, opt in to using business policies via My eBay.

Note: No active listings will be affected when you opt in to using business policies and you'll always be able to approve which policy is applied to a new listing before it appears on the site.

Review the custom set of business policies for postage, returns and payment information automatically created by eBay. These are based on your current active, scheduled and ended listings. We'll automatically assign a default policy for future listings based on your most frequently used information.
List using your business policies.
Using business policies to create a listing
When you list an item, your default policies will be pre-selected and you can choose to list using these, choose another existing policy or create new policies as needed.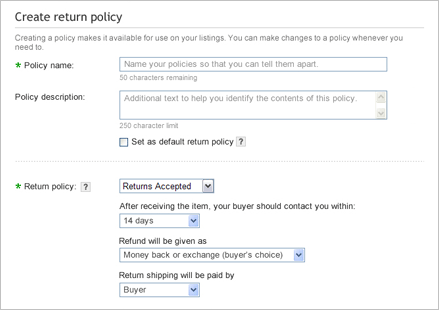 From early June, when you've opted in to using business policies, you'll also be able to easily select your returns policy using drop-down menus in My eBay.
Managing business policies
From the central business policies location, you'll be able to:
Create a new policy from scratch.
Edit your existing business policies.
Change your default policies.
Delete a policy if there are no active listings associated with that policy.
Reassign listings to a different policy.
What you need to do

| | |
| --- | --- |
| By mid-July at the latest | Opt in and start using business policies for postage, returns and payment information. |
Frequently asked questions
Do I have to use business policies?
Business policies will allow you to save time when creating and updating listings and you can opt in to try business policies.
At this time, you can choose to opt out of using business policies, but in the future all sellers will have to use business policies as standard listing practice.
What if my postage, returns and payment information differs across my listings?
With business policies you can have as many variations of your postage, returns and payment information as you need for your listings. For example, you might have 2 different postage policies, 4 returns policies and just 1 payment policy.
Consider keeping as few of those variations as you possibly can so that it's easier to manage this information.
What happens if I make a change to a business policy?
All the listings associated with a particular policy will be automatically updated when you make changes to that policy. However, this does not apply to:
Auction-style listings where bids have already been placed.
Auction-style listings with less than 12 hours remaining.
Fixed price format listings with an unanswered Best Offer.
We'll make it clear to you when listings haven't been updated.
Find out more about restrictions on revising listings.
Can I use business policies in all eBay selling tools?
Business policies will be available in the following selling tools:
Sell your item form
Revise your item form
Bulk edit tool
Turbo Lister
Blackthorne
File Exchange
Business policies will not be supported within the simple listing form.
Can I use business policies via third-party listing tools?
Check with your third-party listing tool provider to find out whether they support business policies.
What can I do to help improve the business policies functionality?
We're introducing business policies to help you better manage your listings. You can submit any feedback from the page where you manage your business policies.