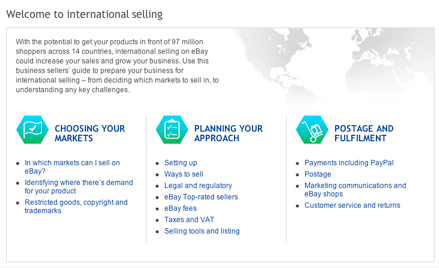 eBay is making it easier for you to sell internationally, with a number of improvements planned throughout 2012. We've started with the creation of a new International Selling Hub and increased clarity for international buyers on customs duties.
Trials of additional improvements have already begun with a small number of sellers and we plan to introduce new features later in the year. In the interim, you can find out how to get started with international selling by visiting our new hub.
Detail
Benefits of international selling
International selling on eBay gives you the opportunity to:
Make your products available to 97 million customers worldwide.
Help increase your sales by expanding into new markets.
Discover new pockets of demand for your products.
Visit the International Selling Hub for all the information you need, including guidance on potential markets, legal requirements, regulations, taxes, VAT and eBay fees.
Clarity for international buyers on customs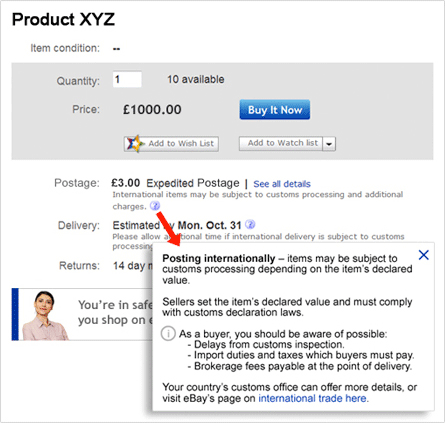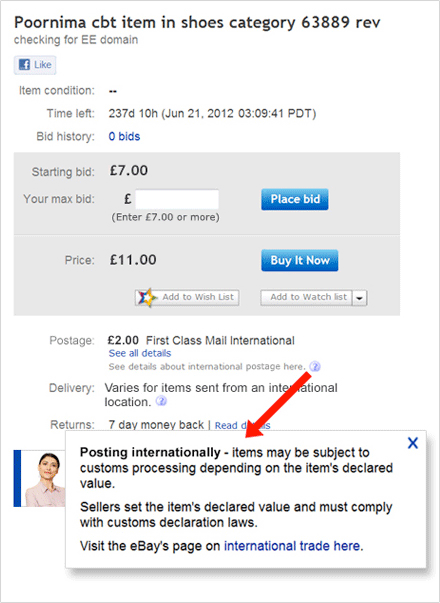 We'll automatically post one of two messages in the postage and packaging section of the item page and in eBay Checkout to give greater clarity to buyers on their customs obligations. These messages will appear automatically when the buyer location country does not match the item location country.
The message seen by a buyer will depend on the item price and the customs thresholds in the buyer country:
If an item price is below the customs threshold, buyers will be informed that items may be subject to customs processing depending on the item's declared value.
If an item price is above the customs threshold in the US, Canada and Australia, buyers from these countries will be informed that there may be delays due to import duties and taxes, customs inspection and brokerage fees at the point of delivery.
Sellers will no longer need to provide details on customs and should consider removing these from their listings.
Any Feedback from international buyers that specifically references these issues will be removed upon a seller's request.
What you need to do

| | |
| --- | --- |
| Now | Find everything you need to know about the benefits of international selling on the new International Selling Hub. |
Frequently asked questions
Can I join the trials?
Taking part in the trials is by invitation only. Sellers can't request to join the trials.
However, we encourage you to submit your improvement suggestions through the feedback link in the top-right hand corner of the International Selling Hub.
Why are the new features not launching now?
We test new features before they launch to ensure a good quality user experience for sellers and buyers.
When exactly will the new features launch?
This depends on the outcome of the trials. We will only launch a new feature to users when it's fully tested and proven to be successful for sellers.
When can I get more detail so I can prepare to use the new features?
We commit to giving details to users at least 30 days in advance of the introduction of updates and new features.
How can I give feedback on the International Selling Hub?
You can let us know what you think by using the feedback link in the top right-hand corner of the hub.
Can I use PayPal to accept international transactions?
Check your PayPal account is set up to accept international transactions in multiple currencies before you start selling internationally.