From late March we're introducing new safeguards to help increase the protection of sellers against unfair Feedback and detailed seller ratings.
These safeguards include automatic 5-star detailed seller ratings for communication in certain circumstances, the removal of buyer Feedback for unpaid items, and more clarity for international buyers on customs.
With these improvements, we're aiming to ensure Feedback is an accurate and fair reflection of the service you provide and will help us to build a fairer eBay trading environment.
Detail
Automatic 5-star detailed seller ratings for communication
Most transactions on eBay go smoothly for buyers and sellers without any need for contact. It is important to provide buyers with all the relevant information they need in your listings.
From 29 March, you'll be automatically awarded a 5-star detailed seller rating for seller communication when a transaction meets all of the following criteria:
Tracking is uploaded or the item is marked as dispatched within 1 working day after payment has been received.
The payment method is PayPal, making the payment date visible to eBay.
No communication took place between the buyer and seller from 14 days before the transaction up until the point that Feedback was left. This includes messages within My eBay and any opened cases.
As a result of the change, you'll be protected from receiving a low DSR where the buyer has had no communication with you. Where a buyer has had communication with you, nothing changes: we'll continue to ask buyers to give a communication rating and they can still award you with 5 stars.
Make sure you clearly describe your items and list your item specifics, returns policy, postage information and payment methods so that buyers do not need to contact you with any questions before making a purchase decision. New business policies make it fast and easy to include this information.
Removal of Feedback on unpaid items
From May, when a seller opens an unpaid item claim case, all related Feedback and detailed seller ratings will be blocked or automatically removed.
This applies whether or not you are using Unpaid Item Assistant as long as you are only offering PayPal and no local pick up is offered.
Find out more about the unpaid item process.
Clarity for international buyers on customs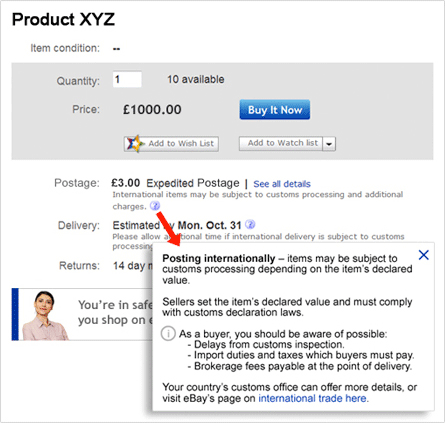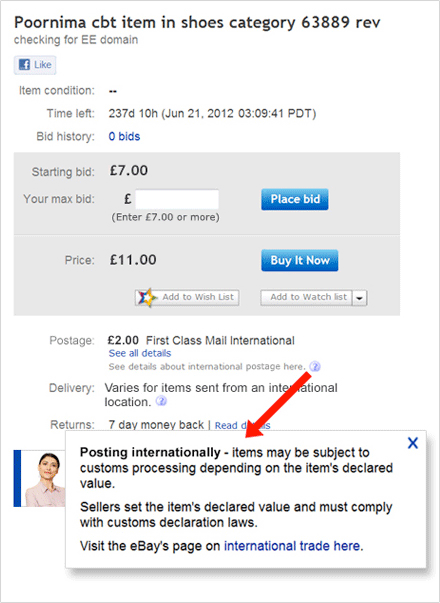 From 1 May, we'll automatically post one of two messages in the postage and packaging section of the item page and in eBay Checkout to give greater clarity to buyers on their customs obligations. These messages will appear automatically when the buyer location country does not match the item location country.
The message seen by a buyer will depend on the item price and the customs thresholds in the buyer country:
If an item price is below the customs threshold, buyers will be informed that items may be subject to customs processing depending on the item's declared value.
If an item price is above the customs threshold in the US, Canada and Australia, buyers from these countries will be informed that there may be delays due to import duties and taxes, customs inspection and brokerage fees at the point of delivery.
Sellers will no longer need to provide details on customs and should consider removing these from their listings.
Any Feedback from international buyers that specifically references these issues will be removed upon a seller's request.
Frequently asked questions
What happens if a buyer makes a request for my contact information during the 14-day period before a transaction until the point that Feedback was left?
A 5-star detailed seller rating for seller communication will not be automatically awarded if a buyer makes a request to receive your contact information during the stated time period.
Are there plans to automate other 5-star detailed seller ratings?
We are looking at potential future improvements for detailed seller ratings.
How do I choose whether to open an unpaid item case or to cancel the transaction?
If you don't receive payment for an item you've sold, you can open a case for an unpaid item after 4 days in the Resolution Centre.
You can cancel the transaction in the Resolution Centre, when:
The item is lost or broken.
You made a mistake when listing the item.
There's some other reason you can't complete the sale.
Note: When you cancel a transaction, there's no action against the buyer. The buyer can leave Feedback in this instance.
Can buyers leave new Feedback if an unpaid item case is closed following payment?
Yes. Buyers are able to leave new Feedback if payment is received by the seller.