News for sellers who list with parts compatibility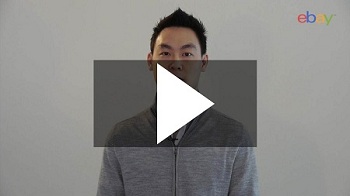 What is parts compatibility?
Parts compatibility allows a seller to show a list of all the vehicles that a part or accessory is compatible with in a single listing. This helps save time and money by reducing the number of listings a seller needs to manage, plus it helps buyers to find compatible parts for their vehicle quickly and easily. You can choose compatible cars from a master vehicle list (MVL) of more than 16,000 models.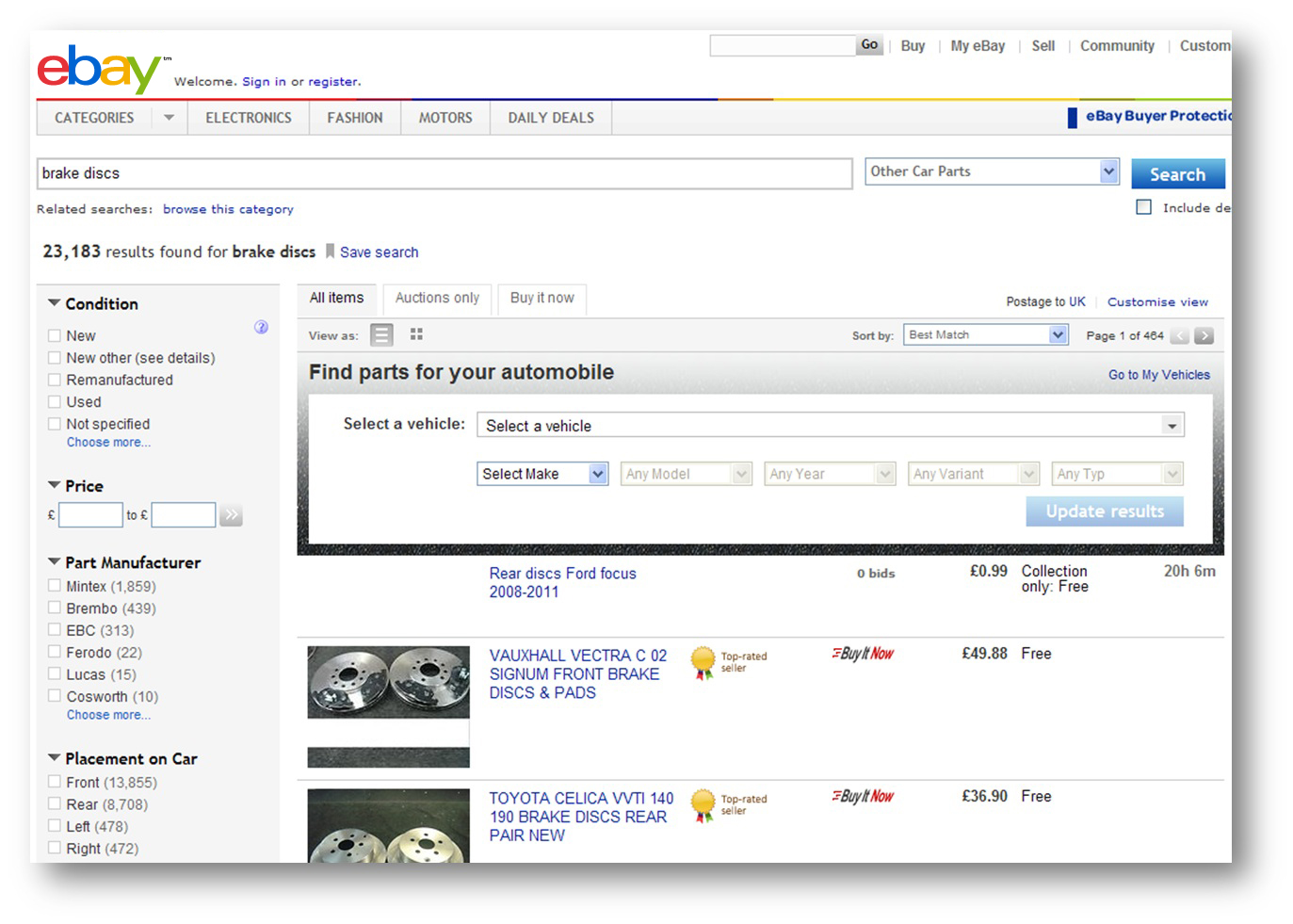 Tip: Make sure you use parts compatibility when listing in Vehicle Parts & Accessories. It helps increase the visibility of your listings in search results and helps to boost sales as buyers can quickly find compatible parts for their vehicles.
You can use the MVL when listing in the following Vehicle Parts & Accessories subcategories:
Car Tuning & Styling (14761)

Car Wheels, Tyres & Trims (14770)

Car Accessories (9884) - only in Roof Racks (33651) and Tow Bars (33653)
You cannot use the MVL when listing in the following subcategories:
Car Parts (14239)

Number Plates & Surrounds (52638)

Car Tuning & Styling (14761)

Decals, Graphics & Adhesives (36677)

Window Shades & Tints (72232)

Other Interior Styling (40199)

Interior Lighting (72236)

Car Wheels, Tyres & Trims (14770)
How to list using the master vehicle list
To create a listing, click Sell at the top of most eBay pages.

Enter a description of the item for sale, for example "brake disc", and then click on Start selling. Select the matching category for your item.

You'll automatically be taken to the master vehicle list. If this doesn't happen, click Categories where your listing will appear and then Add compatibility.

Enter all the vehicle information you have for your item, and as a minimum:

Click Add, and the matching vehicles will be added to your item description. You can then add other compatible vehicles in the same way.

Click Save and continue. You'll return to the form to complete the rest of the details about your item.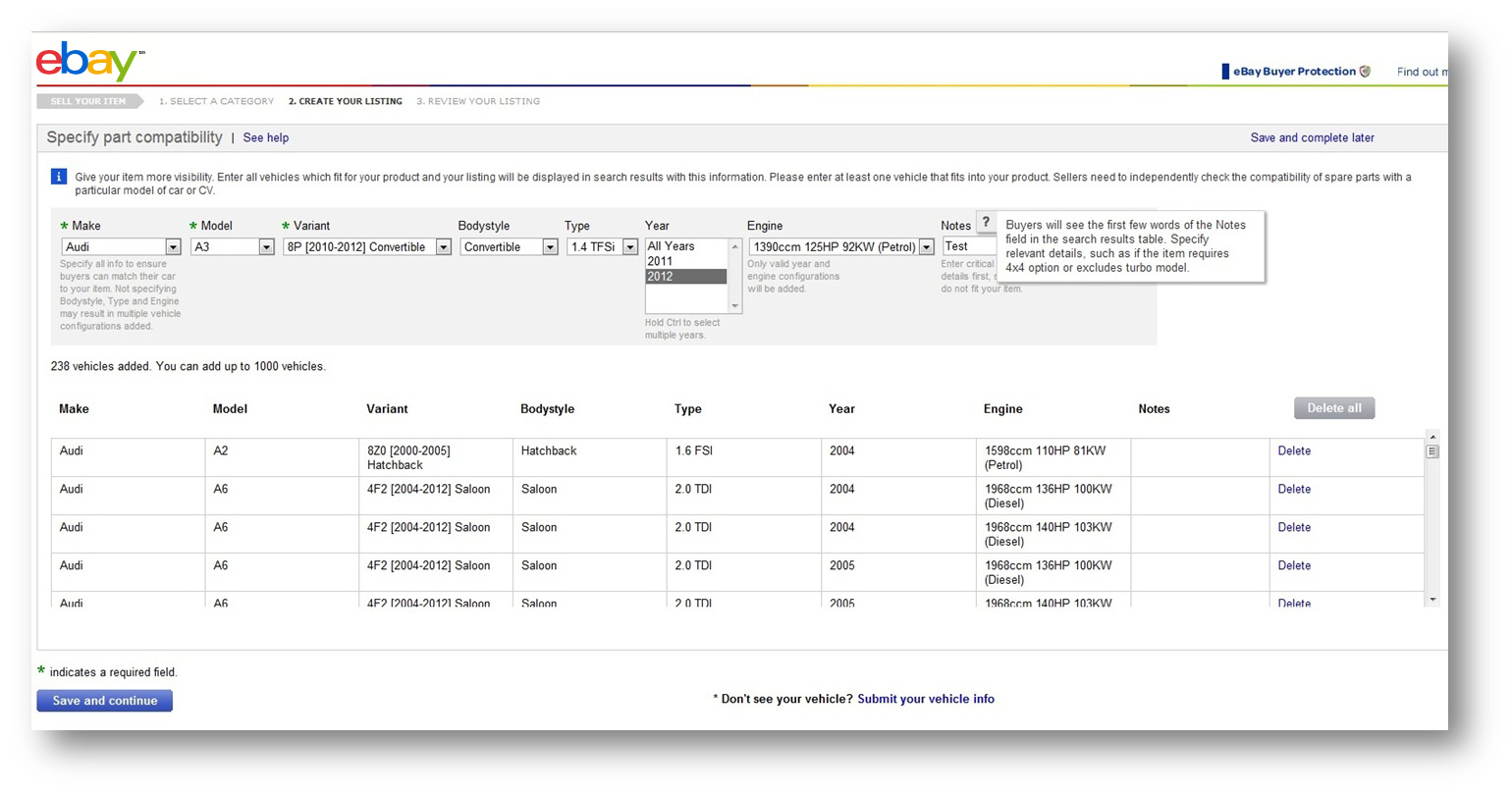 You can also download the latest version of the MVL. This can help you to compare the information you have about your item with the data used by eBay to create your listing.
Master vehicle list download
To download the latest MVL, use the link below. You will need to accept a User Agreement in order to download the MVL.
To receive email notification of updates to the MVL, please send your email address and eBay user ID to VehicleListUpdates@ebay.co.uk
To request the addition of vehicles that you believe may be missing from the MVL, please send an email with the title "MVL Missing Vehicle Request" to sdsupport@ebay .com
For each vehicle, make sure you provide the Make, Model, Year and Output (KW and HP, if known) so we can accurately validate your request.
Note: The MVL is updated quarterly. Find out more about MVL updates in information for business sellers.
How to write an effective title and item description
Item title

Make sure you include search keywords, such as the manufacturer, type of part and OEM/OES reference number in your title. You don't need to repeat information that is already specified in the MVL.

Item description

If you've used the MVL to create your listing, all relevant search information will automatically be included in your listing. You don't need to repeat this in the item description, but you may want to include additional information about your item here.

Item specifics

Make sure you select item specifics for your item carefully as buyers often search for products using these filters.
Video and PDF tutorial for creating listings with the master vehicle list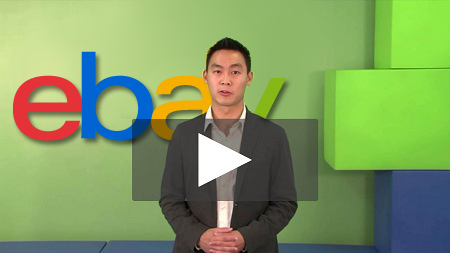 If you're looking for more details, our comprehensive PDF tutorial will give you all the information you need to start creating listings with the MVL.
Information for business sellers
You can use:
Selling Manager and Selling Manager Pro
Check with your third-party provider.
The MVL is regularly reviewed and updated. When this happens, new vehicles are added and small improvements made to existing data. For example, production periods are closed if a vehicle is no longer being manufactured.
Where an active listing includes vehicles which have been subject to changes in the updated MVL, these changes are automatically made to the active listing. If you are relisting an item, any updates from the MVL will also be automatically added.
You only need to revise existing listings if your item is compatible with vehicles that have been added to the updated MVL. Where relevant, please note that the maximum permitted number of 1,000 vehicles (eBay method of counting) can be exceeded.
Note: Vehicles that have been added to the MVL are shown in a separate column in the downloadable MVL Excel file.
If this is the case, you are allowed to list up to 15 identical items as specified within our
duplicate listing policy
. Please make sure that the MVL for each listing is different.
Listings containing vehicles with an open production period (year ranges) may be blocked during a revision of the MVL or when being reposted in the new year.
The new year is added automatically for listings containing these vehicles, which may mean that the total number of vehicles permitted in a single listing (1,000 vehicles using the eBay method of counting) may be exceeded. If this is the case, you'll need to revise your listing and remove one or more vehicles from the master vehicle list, in order to be able to revise or relist the item and, if necessary, to create an additional listing for it. When doing so, please keep our
duplicate listing policy
in mind.
You can add a maximum of 1,000 vehicles from the MVL. If a vehicle is added with all the criteria, such as make, model, variant, body style, type, year and engine, then it often counts not as one vehicle, but as several. The reason for this is that the production period (year) of a vehicle is counted separately for each year.
Example: BMW, 3 Series, E46 [1998-2006], Saloon, 320i, 2000|2001|2002|2003|2004|2005, 2171ccm 170HP 125KW (Petrol)
The production period (Year) 2000-2005 will be broken down into the single years 2000, 2001, 2002, 2003, 2004, and 2005. This means that this entry counts as six vehicles and not just as one. This system of counting is also used for vehicles where you have given only the make, model and variant as mandatory information.