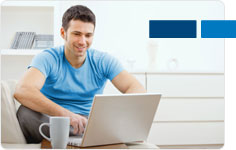 PayPal on eBay
More about PayPal
Shop without sharing

and get your items faster
PayPal stores your bank, credit or debit card details so that you don't have to type them in each time you pay. Just check out in a few easy clicks, using only your email address and PayPal password, without sharing any financial information with the seller. You can also get full protection for your purchases at no extra cost, so you can shop with confidence.
Why pay with PayPal
Only register your details once
You can make PayPal payments using your credit card, debit card, or bank account. You only need to register the details once and PayPal will remember and safeguard them for you.
Shop with thousands of brands
PayPal isn't just for eBay, it's also accepted at thousands of websites including many leading brands. Now you can even use PayPal to shop on the high street with your mobile.
Learn more
* Terms and exclusions apply.